A Road Trip Breakdown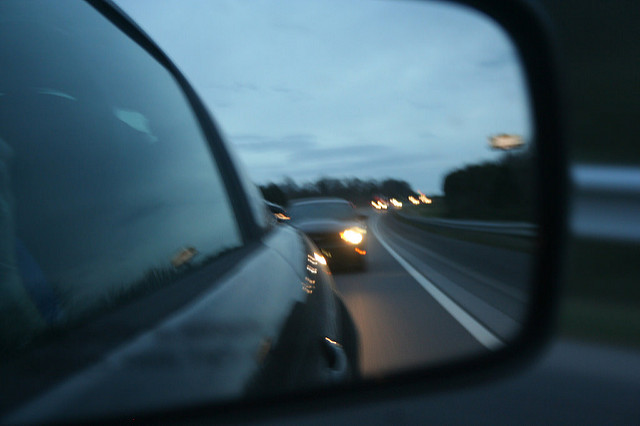 Below is the lay, from the constraints faced, to budgets versus actual, and the route:
Constraints
The trip was completed in a 2006 Corolla-S sedan manual transmission. Two people were moving out to Los Angeles permanently, the third was traveling out with six weeks worth of belongings.
The fit was tight in the car, but not completely uncomfortable. Moving in one vehicle is a daunting proposition for folks who've been settled down for a few years, and own possessions like beds and dressers and brushed silver frames.
If you must bring these belongings, this wikiHow article explains different options – Step 11 gives an overview. None of the passengers have embarked on an extended road trip before.
Personally, before this trip, I've rarely popped my car's hood, never changed a tire, and my idea of "camping" was renting a house with satellite television, dishwasher, and at least two working bathrooms.
Budget
If you'd like to budget and determine an approximate cost for your road trip, having a solid itinerary and seriously considering your lodging options will go a long way towards this. I've included our budgeted and actual costs for your reference.
The budgeted (not actual) is as follows:
Distance / Gas
Total miles: 4,350
10 hours driving time/day
Fill up every 10 gallons.
The vehicle gets 27 miles to the gallon of gas. That's 270 miles per fill-up; or about 16 tanks to get across the country. At $2.80 per gallon (or $28 per fill-up) it'll cost $448 to cross the states.
Food
$20 per day, for 10 days. Plus the initial $20 for food, per person, we arrive at $220.
Lodging
We'll visit and camp at three National Parks. Total cost of the national parks will be $20, per person. Calculated into lodging are two Holiday Inn stays, in case of an emergency, which comes out to $33 per person.
The total lodging cost is $53 per person.
Miscellaneous Emergency Funds
Total $100Actual Costs
The actual total cost for the group was $597 versus budgeted of $888.
After divvying shared costs (not total costs) each person spent just under $200.
As an individual, each person's costs landed somewhere around $350 – $400.
Right click > "Save As" > here to download the excel spreadsheet used to calculate total group costs and miles.
Miscellaneous
The road trip lasted 10 days. On our traveling days, an average of 8 hours was spent on road time. The 50 mph east of the Mississippi, 55 mph west of the Mississippi rule will give you an accurate measure of time on the road.
We stayed the evening in the following cities: Baltimore, Maryland; Fort Wayne, Indiana; Chicago, Illinois; Kansas City, Missouri; Bonny Lake, Colorado; Moab, Utah; St. George's, Utah; Las Vegas, Nevada; Los Angeles, California
The states passed through included: New York, New Jersey, Delaware, Maryland, Pennsylvania, Ohio, Indiana, Illinois, Missouri, Colorado, Kansas, Utah, Arizona, Nevada, California
The distance traveled (not including miles inside the towns) was 3,358 miles. 
The Route – Albany to Los Angeles
Below are trip details: start and end locations, estimated miles and time traveled, and locations for sleeping. Two great resources to find campsites are About: Student Travel and Free Campgrounds.
Day 1 – Sunday, June 13
Start: Albany, NY
End: Baltimore, MD
Miles: 330 m.
Time: 6 hr. 30 min.
Day 2 – Monday, June 14
Start: Baltimore, MD
End: Fort Wayne, IN
Miles: 563 m.
Time: 11 hr. 15 min.
Day 3 – Tuesday, June 15
Start: Fort Wayne, IN
End: Chicago, IL
Miles: 203 m.
Time: 4 hr.
Day 4 – Wednesday, June 16
Start: Chicago, IL
End: Kansas City, MO
Miles 526 m.
Time: 10 hr. 30min.
Day 5 – Thursday, June 17
Start: Kansas City, MO
End: Colorado Springs, CO
Miles 591 m.
Time: 10 hr. 45 min.
Day 6 – Friday, June 18
Start: Colorado Springs, CO
End: Arches National Park (Moab, Utah)
Miles: 7 hr. 25 min.
Time: 406 m.
Day 7 – Saturday, June 19
Start: Arches National Park
End: Zion National Park (Utah)
Miles: 355 m.
Time: 6 hr.
Day 8 – Sunday, June 20
Start: Zion National Park
End: Las Vegas, NV
Miles: 163 m.
Time: 3 hr.
Day 10 – Monday, June 22
Start: Las Vegas, NV
End: Los Angeles, CA
Miles: 170 m.
Time: 3 hr
Post Road Trip Thoughts
If I were to do the trip again, I'd take a more "themed" approach to traveling across the states. One of the original themes I toyed around with was "Sushi Restaurants": that'd involve visiting every famous sushi spot along the way, as well as the best restaurants in the town I'd stay in.
Such a theme presents several obstacles. First, traveling with others makes the sushi theme a difficult prospect. Unless they explicitly love the idea, the theme probably won't excite them much.
Second, chasing sushi restaurants across America puts you at a disadvantage if you haven't figured out your lodging logistics.
Finally, sushi isn't a budget meal, and a road trip built on a sushi theme is not a bootstrapped trip.
If a road trip is in the future, touring more National Parks is a definite interest.
If you visit three or four national Parks, buy the National Parks Yearly Pass for $80, and many parks are switching over to the reservations system for camping – during peak season you may need to call a month ahead. 
In a group road trip, your selection of travel mates is important. It is not like putting together a corporate team, or a committee to oversee the town; don't look for balance and differences that provide a wide view. For a trip of short duration, focus is more important. The similarities between travel mates are more important than the differences.
Acquire travel mates who share the same standards (or lack thereof) of comfort, dining, and interest. (For example, someone who doesn't eat fish isn't a good candidate for the "Sushi Restaurant" themed road trip.)
Miscellaneous Tips
Before leaving on the trip, agree which costs will be split between travelers. For example, if the car breaks down, who contributes towards the repairs? 
Driving from Colorado into Utah, for the first dozen exits, there are zero services: no gas, no telephone, no nothing. This is a fact they fail to mention at the last exit in Colorado. Make sure you fill up on gas and water.
Armed with an atlas, you can worry considerably less about exact locations to camp out for the evening. Just open the map and shoot for a spot.
A Final Story
There's this image of Will I can't get out of my head.
Perched on a ledge, his legs and fashionably plaid shorts dangling over the edge; below them, a 12-foot drop into sand. His t-shirt is soaked, like he just pulled it from a bath drawn from his own sweat. Water beads dot his eyebrows. His hands quiver as they clutch rock.
He silently counts to himself, psyching himself up for the drop. "One, two, three…" But his butt doesn't move. It remains rooted, still as stone, like any of the rock formations we've encountered in Zion. "So," he said. "That didn't work."
Then he turned back to me.
"I can't do it."
The fact he was in this spot at all – not sipping water, patiently waiting for our return at the beginning of the trail, still shocked me. Getting here, 12-feet of gravity between him and the ground, required him to climb the distance a few hours ago, white knuckling, tip-toeing, and heel hooking his way up the red rock.
After that, the bouldering problems got real hard. Yet he traversed every barrier we traversed, slowly but relatively smoothly, until now.
I shrugged, and looked around. The sun was starting to duck behind the wall of rock behind him. We still hadn't found a place to camp. If we were lucky, we'd pitch the tent with just the last snatches of light on our backs. If we were unlucky, we'd have to set up in the darkness.
"You don't have much of a choice," I told him. "It's getting dark and we need to head back. We can't stay here forever."
Seeing him there reminded me of this scene from Gattaca, with Ethan Hawke and Uma Thurman. Hawke's character needs to avoid the authorities, and behind him, he drags a reluctant Thurman, who's ragged breathing can't quite catch up to her physical activity. She suffers from a heart condition, and when they finally collapse behind a wall, she gasps, "Don't you understand? I can't do that."
And Hawke replies, "You just did."
As I planned this road trip I couldn't help but feel relieved I was doing it with two friends. I'd never be able to road trip across the country, schlep all my belongings out west on my own, I reasoned to myself. How would I handle all the driving, or go camping by myself? Wasn't it a safety issue? I truly believed I wasn't capable of doing it.
And I was right.
You're not capable of doing anything until you've done it.
A few months before that I went through the same mental gyration about moving out west at all, with or without other people. It was a terrible idea, I thought, abandoning a stable lifestyle to become destitute and broke. I'd never be able to leave everyone and everything familiar behind. I was incapable of such a task – until I did it, that is.
Will wasn't capable of shimmying through tight spaces, and conquering those bouldering problems… until he did.
Just as he wouldn't be capable of taking that twelve foot drop. Until after a 20-minute psych-up session, I watched him slowly edge his butt off the ledge… stick one precarious leg out into the air, and let go.
He fell hard, air punching out of his lungs like wrenching a nail free from a tire. He collapsed to his knees with more force than he expected.
He rolled into the dirt and groaned, disbelief at the feat that just moments ago, he couldn't do.
Photo Credit: Ashley Hill