Eating at Din Tai Fung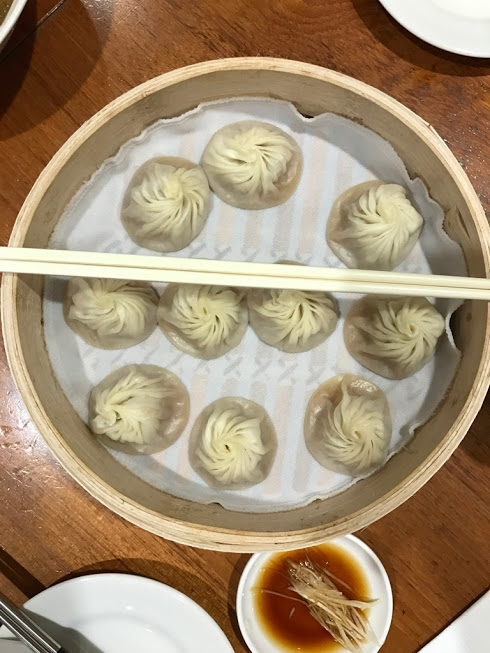 Before going to Taiwan, my friend prepared a document of recommendations. She wrote:
"Soup Dumplings: Din Tai Fung is big in Taiwan, but I say it's overrated. A soup dumpling is a soup dumpling, and we get great ones stateside."
We went to Din Tai Fung, and I couldn't disagree more. The hype is well-deserved. This was probably my favorite meal (out of many good meals) in Taiwan. Of course, it wasn't just about the soup dumplings — which were good.
Here are some other things I loved about our meal at Din Tai Fung.
Seamless "handoffs".
The bussers were still finishing getting our table ready before we sat down. Instead of just leaving us there, the hostess waited with us for about 3 minutes, chatting and asking about our trip, until they were ready to seat us at the table.
Hot tea poured for you before you sit down
.
A simple but nice touch.
They pour vinegar for you.
If you order the soup dumplings, a waitress comes by and pours the vinegar for you. Imagine going to your local sushi joint, and after placing your order, the waiter comes back and pours soy sauce for you. Again, a simple but nice touch.
Double-checking the orders before serving.
It was extremely busy, yet before the food runner put down the food, they always double-checked they had the right items, and THEN placed it on the table.
Made it into an experience.
They had 2 different types of "open kitchens": One where you watched the line cooks, and another where you could watch people prep the dumplings.
You could walk right up to the window, and get a peek at how those dumplings made their way to your table.
High-service level without the gratuity incentive.
I'd expect this level of service at a gratuity-based restaurant, where in theory, the better your service, the more money you make.
But in Taiwan, tipping isn't a thing. Which means that this level of service is implemented and enforced by management. Not easy in the restaurant business.