Cool Things You Should Do in Mexico City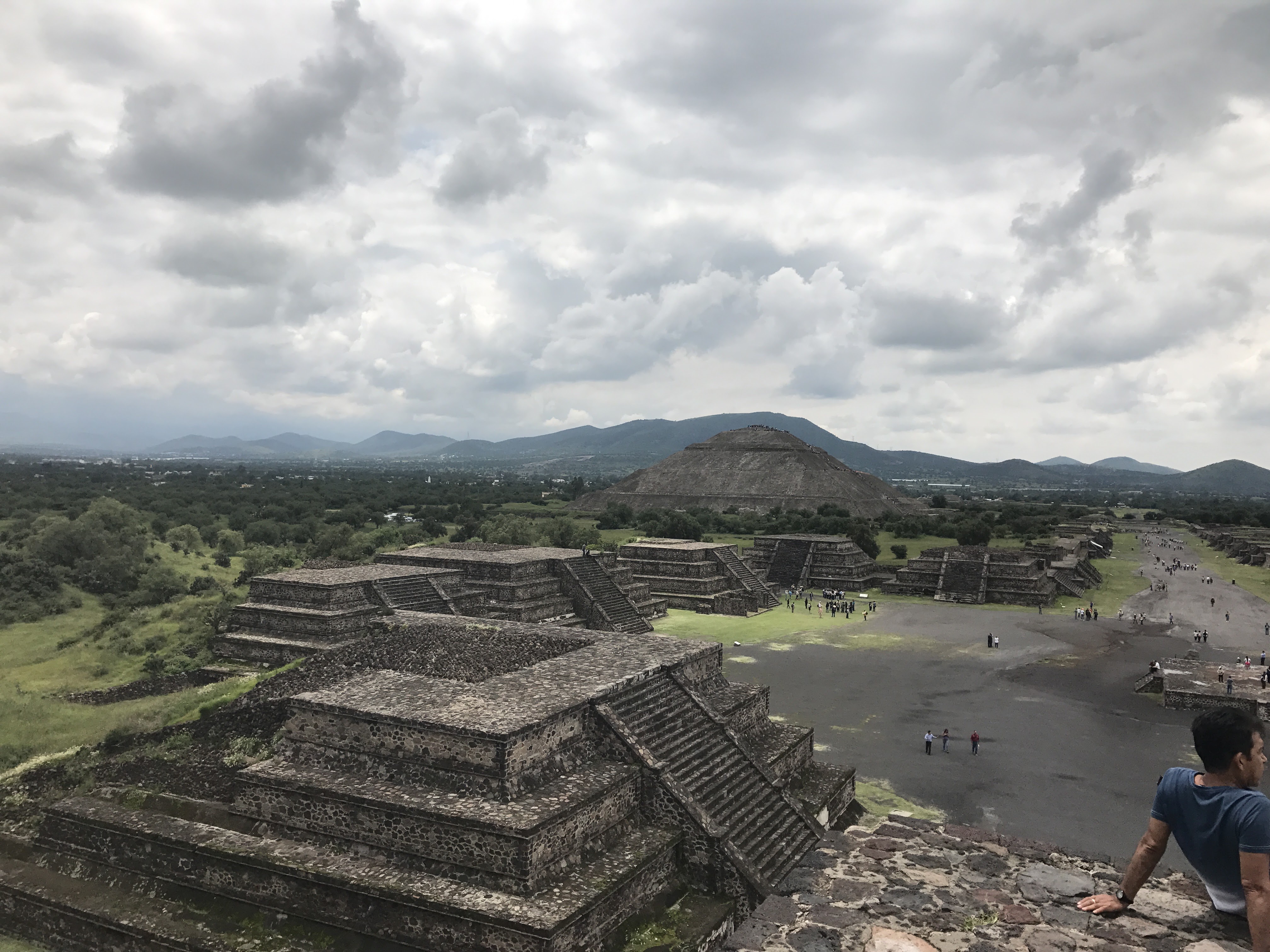 A few months ago, my wife and I took our first proper holiday together in over 5 years. It was the first time going away for longer than a weekend that it was just us (no other family members). We went to Mexico City, then Puerto Vallarta.
Two days after we left, the earthquakes hit Mexico City.
International tourism is a $13.3b industry in Mexico1. I hope sharing these recommendations encourages people to continue traveling to Mexico City and discovering what an amazing city it is.
Here's what we did in Mexico City and my recommendations.
Where To Stay in Mexico City
I hear there are amazing hotels in Mexico City (specifically, different people have recommended Las Suites Hotel in Polanco).
We chose to stay at the nicest Airbnb we've rented yet. The apartment, which can host 8 guests, is called Quinto Condesa. The host is Juan Carlos, whom we met for drinks after checking in. He gave us tips on what restaurants to hit, in what order, and even set us up with a driver to pick us up after visiting the pyramids in Teotihuacan.
Some pictures of the Airbnb:
(The last picture is of the breakfast that was laid out for us each morning.)
In Puerto Vallarta, we stayed at CasaMagna Marriott Resort & Spa. It was nice, and came with exactly what you'd expect from a resort. Breakfast was excellent, they had a passable gym, and while the spa looked nice, we got too sunburned to get massages. The restaurants were fine — nothing amazing, and because it was the off-season, not very busy.
For the rest of this piece, I'll focus mostly on Mexico City.
Best Places to Eat in Mexico City
I love food and the experience of eating. If you only have time to hit three restaurants, here's what I would recommend:
Pujol
It was the overall experience of dining at Pujol that made it special. The experience started a month before our trip, when I tried making a reservation on OpenTable. It was already booked out.
I had to ask my friend Chloe, who lived in Mexico City, to help me make a reservation.
We finally got a reservation for 1:30p.m. on the day we arrived. Of course, our flight was delayed, and only landed at 12:30p.m. (leaving an hour to get out of the airport and to the restaurant). We got into an Uber and headed to Pujol with our luggage.
The 6-course pre-fixe meal was amazing. I didn't love the 1,000+ day old mole, and actually preferred the newer mole. Super impressed with how the entire staff was able to explain each course in both Spanish and English. I remember checking Yelp later, and one of the best reviews succinctly captured dining at Pujol with these words: "Elegant, but not stuffy."
El Cardenal
If Pujol was an amazing experience, El Cardenal was an excellent meal — in terms of bang for the buck, perhaps better than Pujol. Washed it down with a couple of carajillos at the end, as recommended by our Airbnb host, Juan Carlos.
El Tizoncito
Amazing tacos al Pastor. The only mistake we made was not ordering enough the first go-around. Rectified with a second-round of al Pastor tacos for dessert.
Nevería Roxy
Bonus fourth place for dessert. This was recommended by our friend Sophia. We got the mamey flavored ice cream (mamey is a tropical fruit native to Mexico).
Places Not to Eat in Mexico City
These restaurants were not "bad". Just fine. I wouldn't be rushing back to them next time.
Barbacoa De Santiago – Had lunch here before going to the markets. Very clean. Menu catered to tourists.
El Bazaar Sábado – Got a drink here, too busy to get service, and also seemed like it catered to tourists.
San Angel Inn – There's a restaurant on Santa Monica Blvd in Century City, Los Angeles called Chez Marie that San Angel Inn reminds me of. The food was good, but the atmosphere is stuffy and stuck-up. Met our friend Chucho here, who told us about what it was like working for Uber in Mexico City.
Favorite Mezcal bars
La Clandestina – My friend Chloe took us here. I think this was my first time drinking Mezcal straight. To be honest, it hit me a lot faster than I anticipated, and I had to slow down after the first. Nice tacos as well.
La Botica – After our amazing al Pastor tacos in El Tizoncito, I was looking for another mezcal bar. I was about to pick another tourist trap when a bartender flagged me down, and asked us to try her bar. It was (literally) a hole in the wall. Sat about 8 people. Love it, we hung out for about 2 hours. Can't wait to go back here.
Tourist Attractions in Mexico City
Teotihuacan. Must see Mesoamerican city, with pyramids and a multi-family compound.
Museo Nacional de Arte. Some amazing mixed-medium sculptures.
Palacio de Bellas Artes. Didn't go inside, but walked around the area and people watched.
El Bazaar Sabado in Plaza del Carmen. A nice crafts market, picked up a few pieces here.
Mexico City Airport. Okay, obviously not a tourist attraction, but stayed at the Salón Premier Aeromexico Lounge for 4 hours (missed a flight) and it was great.
Puerto Vallarta
We got upgraded to first class on our flight from Mexico City to Puerto Vallarta (not sure why). Like I mentioned, we stayed at a resort and spent most of our time there. The city of Puerto Vallarta was nice. The vendors are eager but not overly aggressive, beckoning for you to try their tequila, cigars, food, etc.
Between eating, drinking and resting poolside, I finished reading Chaos Monkey by Antonio García Martínez, read the Bitcoin whitepaper a few times, researched how to buy property in Ireland, and took notes for a future Taylor Swift blog post for work.
Miscellaneous Travel Notes
I was told to leave behind all jewelry when traveling to Mexico City, which I did. For what it's worth, I do think you're better off safe than sorry, but never did I feel unsafe.
On the second day, I lost my credit card. It's insane how easy travel is — it didn't affect the trip at all. I canceled the card, and used a backup card to get cash. When I first traveled to China, I remember what a pain in the ass using American Express Travelers Checks were.
If you don't have Priority Pass to get into airport lounges, I highly recommend it.
Here's a video I cut of the trip:
Other Things to Do in Mexico City
The trip to Mexico City was only a few days. There's a ton more stuff I wish I got to see. Here are recommendations my friends put together, if you have more time on your trip.
Sophia's Recommendations
Castillo de Chapultepec (former castle where the emperor lived, now a national history museum)
Museo de antropología (I believe it's the largest anthro museum in the world!)
Walk around Polanco/La Condesa/Roma (neighborhoods)
Go to El Zócalo (the main city square, former main ceremonial center in the Aztec city of Tenochtitlán). The main cathedral is there, and the government building. INSIDER TIP: Go to Hotel Majestic, an old, old hotel in El Zócalo, and go to their rooftop restaurant. Order cocktails (I recommend ordering a "Vampiro" — it's a tequila cocktail), and check out the view of the square. BEST VIEW IN TOWN.
Frida Kahlo's house
Franz Mayer Museum
Museo Soumaya – great museum, in Polanco área… area is nice.. lots of restaurants and bars..
La Unica (Mexican food in Polanco)
Limantour (bar)
El mayor (terrace over a bookstore. Amazing view to the Cathedral and Templo Mayor)
El Bajío (delicious Mexican food)
The Comrade (restaurant/bar)
Patio Aurora (best GIN cocktails in town, in cute patio area)
Mercado Roma (Think of like a Mexican version of Eataly– big market space with various food options)
Contra Mar (Mexican seafood– amazing dishes you don't normally find in the US)
Tori Tori (upscale Japanese food)
Azul Histórico (upscale delicious Mexican food)
David's Recommendations
Ojo de Agua – seriously the best breakfast/brunch spot ever. Unreal everything, acai bowls are off the chain, smoothies, fruit juices, even standard brunch stuff is legit. I would go every morning if I were you…
Chiquitto – coffee place with some small plates, would only go if Ojo was closed
Hotel Condesa for rooftop bar – hotel has an old school vibe, but solid spot to get a cocktail on the roof
Baltra – great cocktails
Merotoro – Fancier dinner
Mercado Roma – Basically the DFs version of the Ferry Building in SF. Hipster little food stalls set up with lots of different foods, fun to walk around, get something to eat then a beer/cocktail in the rear seating area
El Hidalguense – Very awesome mexican food to binge on. Amazing tacos. Just super legit and all around good. I'll find it in a bit, but there are tacos there that translate to corn fungus. Anyways, gross name, but super good.
Lalo! – Super hip LA style brunch but in DF. Extremely good
Frida Kahlo Museum – It was really awesome if you have the time
Tour of the old city – If you go on a Sunday, Paseo de la Reforma is closed so start further up, if not start at Palacio de Bellas Artes (go inside and up to the 2nd (or 3rd can't remember) to see Diego Rivera's mural, then walk your way through the old town towards to the Zocalo. Walking through the Cathedral was cool, but not fully necessary if there's a huge line. Was crazy to walk around the front to see where it was built over the mayan ruins.
If you want a little bit of a pit stop from the Zocalo, crowds, etc, you should do a quick pit spot at Azul Historico. It's a really cool old building with a nice little restaurant inside surrounded by some stores on the 2nd level
If you want to buy touristy stuff, after the Zocalo, you can walk to the Mercado de Artesanias. Just your standard outdoor market
Museo Soumaya – This is Carlos Slim's personal museum. Free entry and totally trippy to see what the world's 2nd richest man can buy. Also, it's right in front of his Telcel HQ. Pretty hilarious and awesome.