Minimalism: Attire Guide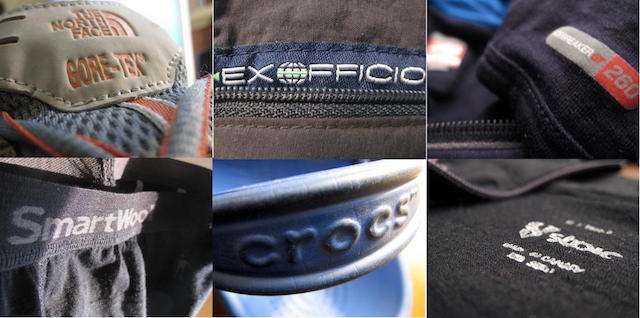 Introduction
Overabundance of option and choice make slaves of us all. Cutting to the "core" of your closet, then building from those essentials, simplifies traveling, moving, and living. The challenge is whittling down to your core closet.
Core closet – 1. the attire an individual wears 90 percent of the time. 2. the attire selected under an extreme quantity constraint that allows an individual to perform 90 percent of his day-to-day activities at 90 percent comfort level.
Even when running on a skeleton of a closet, we're assaulted with a multitude of options: colors, cuts, sizes, materials, brands.
The purpose of this guide is to assist in the creation of the core closet.
Disclosure: All links are non-affiliate links. Most link directly to either Backcountry or Moosejaw; please support these companies with your business. All costs are approximate.
Base Layer
[from right to left: 140 Tech-T, 200 Hopper, Long-Sleeve]
The Icebreaker Line
The following Icebreaker products are 100% Merino wool. Merino wool surpasses cotton in nearly every aspect. It traps heat, wicks sweat, and dries extremely quickly – three to four hours, hanging. (To extend the life of Merino wool garb, do not dry by hand wringing. Instead, lay out garment on a towel, and roll into a tight cylinder. Do not stick Merino wool into the dryer).
Merino wool is also antimicrobial. After a rinse in cold water, there is close to no odor.
The Bodyfit150 Ultralite Short Sleeve Atlas T-Shirt ($45 – not pictured) as the name implies, is a fitted, athletic-cut shirt (short on the arms, short on the torso.) Out-of-the-box, Bodyfit resembles more of an undershirt than a t-shirt.
The SuperFine140 Tech T Lite($50) fits more like a casual t-shirt. A size small fits comfortably fits a frame of  5'7", 140 lbs.
The SuperFine200 Hopper T-shirt ($65) also possesses a casual t-shirt cut. The weight of the t-shirt possesses substance, and unlike the above shirts, does not feel like it'll rip after mild wear.
The Bodyfit200 Oasis Crew ($70) has an athletic long-sleeve fit. Think Under Armor, without the feel of a synthetic fabric against the skin. The Oasis Crew is nearly a perfect base-layer for cold conditions (sub-40 degrees.) It suffers the same sizing issue as much of Icebreaker apparel – snug fit on top, but short on the length.
Save for the SuperFine200 Hopper T-shirt, there's been the unfortunate experience of ripping in all the Icebreaker products mentioned above. Ripped articles were worn strictly under casual use and light athletics (running, weightlifting.)
The Stoic Line
The Stoic brand is the exclusive brand to Backcountry. Shirts tried on typically have a looser fit, and none exhibited the next-to-skin (NTS) quality found in Icebreaker or Under Armor brands. At first touch, the quality of merino wool feels cheaper than Icebreaker; though it still wicks sweat, holds heat, and is antimicrobial.
As a whole, the Stoic brand is less expensive and offers a greater variety of colors. The back of the shirt "tails" at the end, and fits more comfortably than Icebreaker during casual wear. The sleeves are extra long, and stay in place when pushed up the forearms.
Stoic Merino Bliss ($80)
The Merino Bliss has three noteworthy features: thumb holes at the end of the sleeves, a zippered chest pocket, and a zippered half-collar. The former two are welcome additions to the Stoic brand. The style of the latter, however, feels strange. Unzipped, the shirt opens just north of the solar plexus, and wearing in this fashion produces odd looks. (The functionality of the zipper length can't be denied, though; there's an immediate cooling affect when unzipped.)
The Stoic Merino Crew ($60) is an alternative to the Icebreaker Oasis Crew. While the Oasis Crew has a heavier, warmer feel and is NTS, Stoic Merino Crew is longer in torso and arm length, and the sleeves have thumb holes.
Other Base Layers (in brief)
SmartWool Sport NTS Crew – Long-Sleeve ($80)
Looseness around the wrist "cuffs," lightness of the material, and price make the SmartWool Sport NTS Crew inferior to its Icebreaker and Stoic counterparts.
SmartWool Men's NTS Lightweight Bottom ($70)
A comfortably snug, lightweight bottom that discretely keeps the legs warm beneath jeans and slacks.
EMS Techwick ($20)
Techwick pills and doesn't battle odors well, but at less than half the cost, it's a noteworthy Merino wool alternative.
Ex-Officio Men's Wicking Boxer-Brief ($25)
A nylon-spandex blend boxer-brief that's antimicrobial, stretches, and dries in a few hours.
SmartWool PhD Outdoor Light Cushion Micro Sock ($13)
Merino wool blend makes it an excellent athletic sock.
SmartWool Diamond Jim Sock ($18)
Merino wool blend and three-color argyle makes it an excellent dress sock.
Mid Layer
Icebreaker Sport 320 Nomad ($160)
The Sport 320 Nomad is one of Icebreaker's heavier products, weighing in at 320 g/m2. It's a quarter-zip, pull-over hoodie. Unzipped, the hood has a triangular look sitting atop your head. Fully zipped, the hood sits snug on the skull, creating a "speed skater" appearance.
It's an extremely durable product, with double stitching at the bottom hem, at the end of the sleeves, and inside the thumb loops.
Like other Icebreaker apparel, sizing fits slightly small.
Icebreaker GT Quantum Hood ($170)
The GT Quantum Hood is lighter than the Sport320 Nomad (260 g/m2) but what it lacks in weight, it makes up in style. It's a sleek full-zip hoodie with a plethora of features: drop tail hem, two zippered stash pockets (one on the chest, a second at the small of the back) and a reflective zipper. The most prominent detractor is lack of hand pockets. For casual wear, size-up.
Coolibar Shirt ($60)
A lightweight long-sleeve with a 50 UPF rating. The material feels like cotton but dries as fast as nylon or Merino wool. Gusseted sides keep you cool, a tri-fold collar keeps the sun off your neck, and solid construction means the Coolibar shirt is built to last. Size small fits a 5'7" to 5'8", 14½ – 15 inch neck.
Pants
Ex-officio Nomad Pant ($40)
This pair of pants deceptively looks like an ordinary pair of cotton trousers. Only closer inspection reveals its versatility: nylon-material brushed with Teflon makes it stain and wrinkle resistant, light, and fast drying. It features an "indestructible button," an elastic waistband and belt loops, two hip pockets, two zippered back pockets, and a discrete security pocket on the right leg. Sizing on the length runs about an inch long – may require tailoring.
EMS Profile Convertible Pants ($40)
The Profile Convertible Pants is an ideal model as far as convertibles go. It possesses all the properties of nylon material, has a built-in belt, and cargo pockets along the thighs. Overall it's a loose, casual fit; the zip-off attribute of the pants isn't unnoticeable, but it is discrete. As shorts, the length of the cut falls at approximately mid-knee. Sizing on the leg length runs about an inch long – may require tailoring.
Footwear
Footwear is the natural enemy of any core closet – in no other attire form does your environment, activity, and company so greatly affect your selection. Unlike a base layer, it's unlikely to come across a "one-shoe-fits-all" product. Function varies widely, and few articles of clothing communicate personality better than footwear. Even after selecting a brand, the magnitude of models, colors, and styles could submit even the savviest of shoppers into choice-paralysis.
The following link to brands/models of Core Closet footwear: Crocs, Keen, Vibram Five Fingers, Rainbow Sandals, The Northface Ultra 104 XCR, The Northface Hedgehog, The Northface Ultra 103 XCR
Dress Layer
In reality, the Dress Layer isn't part of the Core Closet, but rather an extension of it, naturally bridged by your profession, personality, and desire to accessorize. It does not lend itself to mobility, but may be essential in day-to-day operations. It's where the Core Closet exhibits the most variance. Here are some components of the Core Closet Dress Layer of an urban professional:
(2) Suits
(3) Dress Shirts
(3) Ties
(2) Pairs of Dress Shoes
(2) Belts
Summary
The Minimalism: Attire Guide should be used as that – a guide. It's not an attempt to start brand wars, or to trumpet one brand, model, or style as the premiere.
Insights in the Minimalism: Attire Guide inspired by authors like Tynan, Tim Ferriss, Kareem, and Taylor Davidson.
Author's Selection:
(2) IB Hopper T-shirts
(1) Stoic Long-sleeve
(1) SmartWool Bottom
(2) Ex-officio underwear
(1) Ex-officio nomad pants
(1) Nomad hoodie
(2) SmartWool Socks
(2) SmartWool Diamond Jim Socks
(1) Crocs