What I Learned After 7 Years Of Working For Free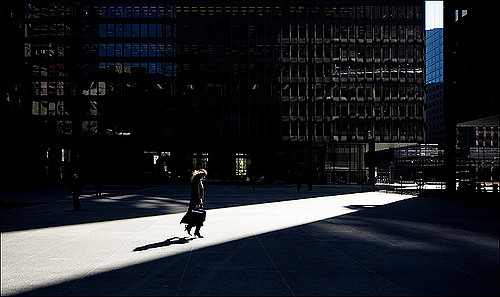 "Can you endorse some of my skills on LinkedIn?" my friend texted me. "I'd be happy to do the same for you. Just let me know."
LinkedIn endorsements? I wondered. Do people look at those? A couple weeks later, I met this friend over breakfast, and he explained, "I'm having a hard time landing full-time work, so I'm trying to boost my LinkedIn profile."
This friend is smart. He's a good person. Eventually he'll land something… and it'll have nothing to do with his LinkedIn profile or endorsements. LinkedIn endorsements died on arrival, like blasting your resume through online job portals before it.
I told him his best opportunity to find well-paying, meaningful work was by working for free.
"Should I work for free?"
In the broadest sense, working for free is an easy way of completing a project in the hopes it leads to opportunities in the future.
You can structure your free work however you'd like: A set period of time (e.g. 1 month), a set project (e.g. research a book), or a set number of hours. I don't even think of "working for free" as always "free" — if you can get paid, get paid. I just think of "free work" as a great way to get your foot in the door.
For the most part, I've always treated my free work as spec: I do "X", in exchange for "Y". "Y" can be financial compensation, a full-time gig, or a referral. But I've done it as one-offs, working for free for experience.
Your "work for free" deal can be formal or informal, well-defined or ambiguous. I'll show you a bunch of different ways I structured my free work.
Working for free, squeezed into the hours between working a regular job, led to the best opportunities in my career (no, free work isn't reserved for those bankrolled by your parents). It's opened doors I technically wasn't "qualified" to open, and saved me from a lot of the soul-crushing "submit your resume-into-this-black-hole" anguish my friend was currently going through. To be brutally honest, if that's how you're applying for jobs, you've already lost.
There's a lot of nuance in how to approach working for free successfully that I won't get into here (I strongly recommend Charlie Hoehn's Recession Proof Graduate). I'll just focus on the type of free work I look for and my approach to it. You don't have to be a natural salesman or possess vast technical skills, but you DO have to be able to listen to people's problems and ask, "How can I help?"
Before we get into how to get free work opportunities, it's worth pointing out that this isn't a new, unproven strategy. Dozens of people used free work to launch their careers to the next level.
Working for free can democratize opportunity
Ramit Sethi cold emailed Seth Godin about working for him. Ramit became his first book intern and worked with Seth for an entire summer.
When he was still in college, Jeff Kuo emailed Ramit about helping him. He became Ramit's book researcher for I Will Teach You to Be Rich, and they've been building products together ever since.
Ryan Holiday used his college newspaper as a gateway to interview people he found interesting. Tucker Max was one of those people. After building a relationship, he offered to try selling available ad space on Tucker's site, for free. That led to working for Tucker, Robert Greene, and Dov Charney (plus writing 4 New York Times best sellers).
Charlie Hoehn built his career by offering to work for free. He was a remote intern for Seth Godin. Did video work for Ramit Sethi and Tucker Max. Then went on to assist Tim Ferriss and lead marketing efforts for The 4-Hour Body.
Raghav Haran calls his free work, "pre-interview projects." With these projects, he's worked with Ramit, Hiten Shah, and Shutterstock.
When Kevin Miller wanted to learn more about marketing, he emailed the founder of one his favorite startups, Doorman. He asked if there was anyone he could learn from and help out. That's how he connected with his mentor, whom he credits turning him into a data-driven marketer.
Erika Fox helped small businesses with their social media in Kerry and Galway, Ireland, to save enough money to move to New York City. Before moving, she emailed Olivia Palermo's team and asked if there were any work opportunities. That's how she worked her first New York Fashion Week event. That exposure helped launch her fledgling fashion blog, Retro Flame, to the next level.
No old boy's network. No "someone who knew someone." When done right, working for free is the democratization of opportunity. It levels the playing field. Literally, anyone else could have spotted these openings in the market, and done precisely the same thing. But they didn't… but the Ramit's and Jeff's and Erika's of the world did.
One note on looking for these opportunities: The people you try and help don't need to be New York Times bestsellers or Instagram influencers. Think local. Think smaller (examples below). Basically anytime you see a situation where you think, "hey, I could do that better," your brain should be buzzing.
Stop thinking. Go do it.
Or, in the immortal words of Cam'ron: "You can't get paid in a earth this big? You worthless kid."
The compounding effects of working for free
How quickly can you land an opportunity to work for free?
Most recently, it took me 4 tweets:
That's all it took to land the opportunity to work with one of my favorite MMA analysts, Robin Black.
But what if it didn't work out? What if Robin didn't see the tweet? What if he was busy, or he told himself, "I'll get to it later"? Then, I'd still have tested the idea. I'd have spent a few hours working on an MMA project that I wanted to do anyway, because it taught me more about the sport that I love.
I would have learned perhaps the Twitter channel was too saturated for this play.
I'd calibrate. So that the next time I spotted a similar opportunity, I'd try something else. With free work, even when you lose, you win. It's a flywheel that spins faster and faster the more you work it. You get better at:
Spotting holes in the marketplace
Analyzing how you can serve others
Selling the benefits of what you can offer
The hard skill of executing on your offer
The more skills you develop, the more ways you can help others, and the more opportunities you'll spot in the marketplace, which leads to selling more benefits you can offer… you get the idea.
Whether one person (or a dozen people) responds to your cold email or not… whether you do a project for them or not… whether it leads to a new opportunity or not… in success or failure, you're always getting better.
That's the compounding effect of working for free.
How do I work for free to launch my career?
What should I look for in free work?
How should I reach out? Email, Twitter, Instagram direct message, LinkedIn?
And what should I say?
The truth is: It depends. However, since that's a shitty answer, I'll walk through a bunch of examples to offer as many looks at working for free as possible.
80% of the free work I did led to nothing. You'll see that with these examples. But a handful dramatically changed the trajectory of my career, and made all the "failures" worth it.
Intern and script reader at Intellectual Property Group
I started my career in the entertainment industry with an internship, the most traditional form of free work.
I had no connections in Los Angeles, and not an iota of how the entertainment business worked. I didn't know the difference between an agency and a production company and a studio, or how words on a page transformed to actors on a screen. I just wanted in.
To land my first internship, I brute forced it. I did what I tell others NOT to do: blasted my resume all over town until someone agreed to meet with me.
Here was the scorecard:
Companies applied to: 20
Physical resumes dropped: 3
Days spent looking: 25
Interviews: 2
Internship position offered: 1
That one offer came from a literary management company called Intellectual Property Group. I drove to Sunset Blvd for the first time, quivering like a leaf in the elevator up to the eighth floor, and met with an assistant named Jeane Wong.
Jeane asked if I could write coverage. "A lot of the work is covering books and scripts," she said.
I told her absolutely, I love writing coverage.
She gave me a script called The Last Queen, by Tim Macy and told me to send her the coverage tomorrow.
Before I left, I told her one of their clients, Bobby Moresco, spoke at my university and inspired me to move to Los Angeles. Jeane smiled at that.
I went home and asked my roommate what coverage was. He showed me — it was basically a book report, but for scripts. The first line of my first coverage was: "Neff is 27-years-old and dying." Jeane offered me the internship, and I did free work for Intellectual Property Group for 3 months before moving on.
At the time, I was disappointed it didn't lead to anything more concrete. I didn't know that this stint would be my launching pad to work with Dennis Lehane.
Script reader for the Sundance Screenwriters Labs
Around 2011, it dawned on me that I still didn't have a holistic view of the entertainment industry. I decided to spend time "tasting" as many aspects of film and TV as I could.
I got good at writing fast coverage, and thought I should trade on that as much as possible. In retrospect, it was pretty naive — I thought, "hey I'm good at this so let me keep doing it." At the time, I didn't understand the big picture.
The Hollywood machine doesn't need "amazing" script readers. There's an unlimited supply of smart college students they can bring on for free to help sift the wheat from the chaff. Writing good coverage is a commodity. More important is either developing your talent (as a writer, actor, director, or producer) AND developing relationships with the talent.
Either be the person who can push a project forward, or have relationships with people who can.
At the time, I knew none of this. So I volunteered to read scripts for the Sundance Screenwriters Lab. Cullen Conly was the director of the lab at the time. The experience wasn't terrific: I felt like I was constantly underfoot, and more of a hindrance than a help. I read 4 or 5 scripts and wrote the coverage. I don't think Cullen read any of them, to be honest. It felt like the work didn't matter, so I stopped. Nothing came from that experience.
PA for an independent feature, Desperate Acts of Magic
I had a hunch I was best suited for development work, but wanted to try being onset. I started looking for production assistant (PA) work.
My favorite podcast at the time was Pilar Alessandra's On The Page. One of her guests, a director named Joe Gold, mentioned he was looking for volunteers for a shoot. I paused the podcast and shot him an email:
Joe invited me to PA in Redondo Beach. They were shooting for the day at a friend's mansion. I took the day off from work, and spent 14 hours working on set: I climbed up ladders and covered windows, to obscure the sunlight. Hauled sandbags and held a boom mic. Learned how to use the the sticks and slate for the camera. I had no idea how much time and labor went into shooting a few minutes of usable film.
That 14-hour day of free work also taught me that physical production work wasn't for me. I admired the passion it took, but I hated standing around, being told to be quiet, and waiting for orders. I'm grateful free work let me scratch that itch, so I never had to think about it again.
Casting director for a short, Scarred
A friend of a colleague needed help with casting a short he was producing. I had just working as a casting assistant for Mark Teschner, who'd been casting the soap opera General Hospital for 20+ years. The short was called Scarred. To be honest, I'm still not sure what it's actually about.
I do remember spending 20 hours at my kitchen table in Culver City, going through hundreds of headshots on Breakdown Express, trying to cast 8 roles where only one or two of them were paid.
I got a $300 fee and my first casting director credit, but I was really hoping for more work down the line. They released the short a few months later, and I never heard from them again.
An extra for the National Film Society Youtube Channel
I was following this Youtube channel called National Film Society. Basically, it was two guys, Stephen and Patrick, who did funny review of movies. I liked their stuff, and sent them an email to tell them so: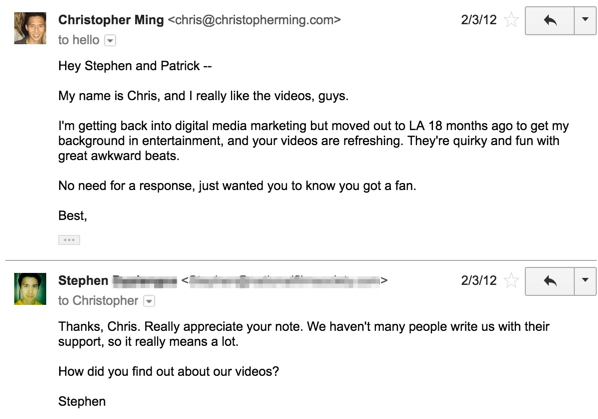 One day, Stephen posted on Facebook that they needed some extras for a shoot in South Pasadena. I drove out and did the extra work: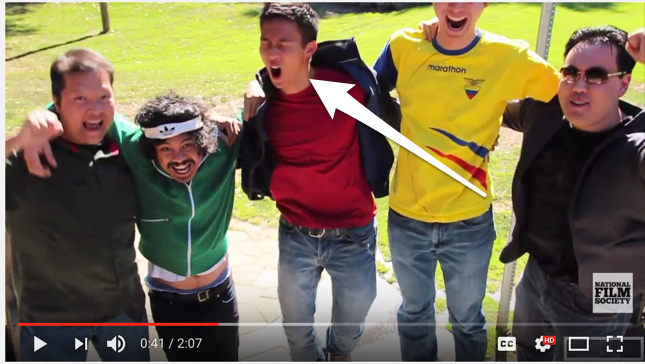 What came of this? Nothing, other than meeting some cool Youtube guys, as the Youtube personality craze was starting to hit its peak. Stephen and Patrick were good guys. Stephen even tried setting me up with some PA work, but I was unavailable at the time.
Business Development Intern at Fullscreen
I thought a good fit for me might be the business or development side of digital media. I applied for a "business development internship" at Fullscreen, a multichannel network (MCN) that was getting a lot of heat.
I applied. I was accepted.
I quit after 3 days.
Each of those 3 days involved working out of a warehouse in Culver City. "Business development" was shorthand for "watch Youtube videos for 8 hours and cold email channel creators on the benefits of joining the Fullscreen network." I watched so many Pokemon battles and card "unboxings," I dreamt of Charizard holo foils each night.
After 3 days of emailing the same script hundreds of times, I realized spending another day here was just a waste of my time. I tried it, I hated it. So I was gone by the end of the week.
Marketing assistant for a Thai restaurant
After Fullscreen, I went back to waiting tables at a local Thai restaurant in Culver City called Natalee Thai. We went through a period where we got bombarded by poor Yelp reviews. Some were so scathing and specific, our manager printed them out and approached the wait staff, basically telling them "I know this is about you and you better shape up."
A friend told me the owner was looking to hire someone to do more marketing — and respond to these reviews. Not just at Natalee Thai, but at his 3 other restaurants as well. I wanted to get more marketing experience under my belt, so I emailed his assistant:
Hi Tess –
This is Chris from Natalee Thai on Venice. Topher gave me this email to contact you, hope it's okay to reach out today!
Just wanted to follow-up to our talk about Yelp! pages and Yelp! marketing. If you're still looking for help with that, I'd be glad to assist.
I mentioned my family owns two Japanese restaurants in NY. Here are links to their Yelp pages (the second restaurant just opened in March, and I'm in the process of building the website. After it's built we'll get more reviews): LINK
In the second review, you can see a recent example of how I communicated with the customer, and she revised her review: LINK
Also, I make sure I "private message" every person who leaves a review, just thanking them for their business.
We also use TripAdvisor (which isn't as big here in Los Angeles.) Two years ago I focused on getting people to leave reviews there, and the restaurant became the best-rated restaurant in the area: LINK
Just wanted to show you what I've done. You can email or call me anytime NUMBER – I'll also be working tomorrow morning and Thursday night!
Thanks, talk soon Tess.
Tess and I emailed back and forth a few times. Eventually she hired someone else, and didn't end up doing this project. But I included this as an example of thinking local, and seeing opportunities around you. You don't have to reach out to the titans of industry or social media influencers — there are often opportunities in your backyard.
Marketer for a Career Development Business
CareerACTivate is a career development class for actors, created by Jona Xiao. She's got a great reputation (5-stars on Yelp from 40+ reviews).
I met Jona at an industry brunch. 95% of the time, nothing comes out of these networking events. You shake a lot of hands and put in face time with faces you'll never see again. But the other 5%, you meet someone interesting.
Jona told me about her business. I looked it up and thought it sounded great, so I told her so. Then I signed up for her email list and realized she might want some marketing help:
Hi Jona,
So glad we got to meet up last weekend! After studying Career Activate, Dallas Travers, and what we discussed on Saturday, here are a few suggestions I'd be happy to implement to help build you continue developing Career Activate:
1. Drafting emails for the start of your email marketing campaign. You mentioned you're recently purchased a new email marketing software. You have to learn the email software and all the filters, and I'd be happy to help draft emails for you. We'd use a tiered approach (introductory / educational material to start, and as a reader got further into the funnel, you could start selling services or offer special pricing).
We could brainstorm topics you'd like to cover and I'd go out on my own to write the e-mails for your to review and approval.
2. Building a Career Activate Blog
In your course descriptions you bullet point a great deal of the takeaways in your webinars and one-on-one consultations. I feel you could actually give a lot of this material away for free, in blog form. The beauty of this is it helps you earn a potential client's trust by giving them a gift,and word-of-mouth marketing is built right in — think about how quickly friends-tell-friends when it's like, free pancake day at iHop. (I don't think you need to worry about giving *too much* away, as a webinar or one-on-one consultation would give clients a much deeper understanding of your material.)
Working off the same brainstorm, it'd be simple to design posts around similar topics that benefit potential clients.
3. More Video
I'd also suggest doing more video or video blogs, speaking to your readers and potential clients. It doesn't need to be high quality or extravagantly produced — off a MacBook webcam is fine (see Dallas's video blogs). Right now I think there's only one video of you on the website, which is crazy because you are a natural on video.
Since people are buying a webinar service, this is an important credibility trigger. It builds a higher level of trust (that would take 100 emails to create).
I could help execute any of the ideas above that resonate with you, part-time. Or other ideas if you have suggestions! In exchange, I would love to learn how you conduct your webinars and one-on-ones, and the tactical aspects of building your business. We could do a short trial period and discuss a more formal arrangement down the line.
If none of this resonates with you, no worries and no hard feelings of course. Either way, really respect the work you've done already and think it'd be brilliant if we did something somewhere down the line.
Ultimately, we decided to create an ebook for her, something she'd been wanting to do for some time. After a few months, we published an amazing resource for beginning actors called: Get Repped! Overcome the 4 Biggest Mistakes Actors Make Seeking Representation (download requires email). She still uses this as a lead magnet today.
Jona and I remained friends, but professionally, we parted ways after this project — her business continued to grow, and I started working for Dennis shortly afterwards.
Marketer for Robin Black
My most recent "work for free" project was working with MMA analyst Robin Black. I hinted at how I approached Robin in the tweets above. They got his attention, so I DM'ed him my pitch:
Hi Robin,
I know you're busy, so I'll get right to it.
Love ALL your YT and podcast content.
You're amazing on these 2 mediums (video & audio) but you can continue to expand your reach, accelerate hitting your goals (whatever they are) AND elevate the conversation around MMA.
Here's how I propose I can help:
All your video/audio content should be made available to READ as well. I can get your content transcribed and organized into different forms of content.
Rather than tell you, let me show you: Here's a link to a sample blog post I created, based off your AskRobinBlack episode 2: LINK
(Please keep in mind, that's a sample, we can shorten or expand as you'd like.)
There are hundreds of things you could do with this content:
– Publish on your own blog/site, link back to your videos
– Publish on a site like Medium and become the authority of MMA to a more general audience, link back to your videos
– Build an email list, link back your videos or any products you create in the future
– Publish on Reddit, link back to your videos
– Use your quotes, put it over awesome MMA pictures, post to IG, and link back to your videos
– Syndicate your written content to MMA sites (who are all hungry for amazing content) and link back to your videos
That's just getting started.
My proposal: Let me put together 5-10 of these blog posts for you. It'll take me about 2 weeks. You don't have to do anything, I can take care of all the work and costs.
In 2 weeks, I'll show you what I got done. If you want to discuss more of the options above, I'd love to do that.
If you review and think, "nah, this doesn't excite me," no problem. We'll part as friends, you can keep all the posts I created and use them however you like. (It'd be just a small token of my appreciation for all your amazing work.)
A little bit about me: BG INFO
If you're interested, I can get started on Monday and you'll hear from me again in 2 weeks.
If you're not, no worries either.
Appreciate you reading this far. Thanks Robin.
Robin loved it, and I got started that week.
On the surface, it seems simple: I got Robin's attention. Then offered him something for nothing.
But it only looked simple because I've been working for free for 7 years. There are dozens of complexities below the surface: What channel to use (email, Facebook, Instagram. Twitter)? What to say? What to offer?
The offer itself could have been 20 different things, so why did I decide on turning his podcasts into blog posts? Because I knew I could do it with complete autonomy. In other words, I didn't need to use any of HIS TIME.
There's also the matter of doing research. I knew Robin had just gotten laid off from his previous job. He needed to build an audience and brand quickly. That meant he was receptive to hearing my pitch, especially if I told him it'd cost him no time or money. Right place, right time, with the right offer.
What's happened since? We killed the project after a few months — blog posts were the lowest priority of his content. Robin and his team recently hit one million Youtube views, and he's also going to be analyzing the biggest fighting event of all time. Like I said at the start, Robin is a rising star.
Who should work for free?
Except for my $300 fee as a casting director, all of this was true "free" work. I didn't make any money (for Robin, I fronted the money to transcribe and organize the blog posts).
In the beginning, I did free work because I thought it'd lead to more money later on. For the last few years though, it hasn't been about getting paid. Take this last example with Robin: I meant it when I said I didn't need the money. But working for free is a tool that I keep in my back pocket, for 3 reasons:
1.Working for free leads to bigger, better opportunities.
Free work led to every major break in my career, directly or indirectly. It's how I learned to hunt for opportunities, instead of waiting for them to come to me. There's nothing more powerful than showing — not telling — someone what you can do.
2. Working for free helps me reach the unreachable.
The best way to reach anyone is to offer them something they want and expect nothing in return. End of story.
When I shift all the risk to my end of the table, I create leverage. Free work is the mechanism that allows me to do that. There's nuance of course: You actually have to offer them something they want (which requires empathy) and then you have to expect nothing in return (or if you do expect something, being able to communicate that with a deft hand). Like any tool, it's only as useful as the person wielding it. It takes practice.
3. Working for free is indispensable to the climb.
I love the work, I love the climb. Right now, I'm not drawn by the money, but the idea of starting new projects, developing new skills, and meeting new people.
It comes at a cost — time I should be spending with my family, or on something besides work.
If the climb isn't a motivator, no one should feel compelled to work for free if they don't have to. You can use free work to land a paying job, then never do it again. Enjoy life.
Personally, I need the climb… and working for free is the best way to find new mountains.
---
Photo Credit: Sam Javanrouh