Why We Love Distractions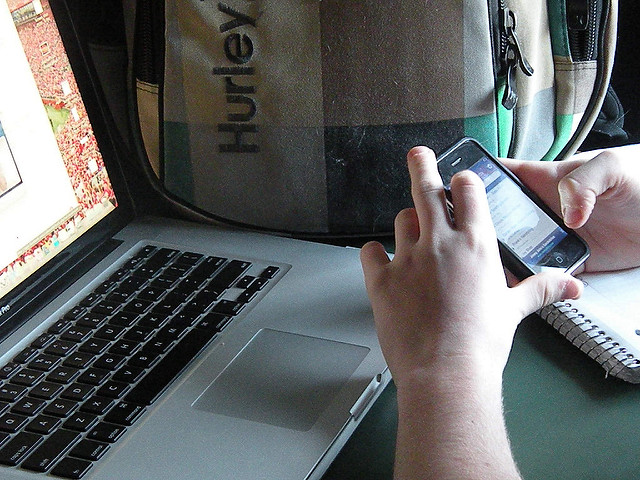 There was a contract on my desk I could not get through.
Every time I sat down, fourth (fifth… sixth…) cup of coffee in hand, armed with a pen and true grit, distractions plagued me from every direction.
I felt like Macaulay Culkin in the movie MY GIRL, who gets attacked by the Avenging Bee Hive, stung a million times, and dies.
Oh. Spoiler alert.
I'd get through three sentences, then someone would ping me on instant messenger, asking if we were having a staff meeting. Or an assistant would make a scheduling snafu, and would urgently need to reschedule — for a meeting six weeks from tomorrow.
And of course, the daily barrage of someone else's phones that I answer.
By the end of the day, I'm an overcaffeinated quivering mass of "leave me the fuck alone," and I've made zero headway.
Riding my bike home, I thought about the distractions, and why I couldn't clear this contract off my list of to-do's. It wasn't a long agreement, but I got pulled away every time I encountered a term or some language I didn't understand.
Somewhere on Palms and Venice, the answer struck me like an oversized Fendi bag swung by an pint-sized socialite coming out of Buchon: I wasn't pulled away by distractions when I encountered difficult language. I encountered difficult language, then I ran away, towards the distraction.
I was a freaking electron in a parallel circuit, voltage squared off against ohm-age, and I did what physics commanded of me: I chose the path of least resistance.
I didn't understand the contract. It was a Stage Play Adaptation Agreement. While the deal terms were analogous to book deals (e.g., "option payment non-refundable but fully recoupable" – in the publishing world, this is just called "an advance." In the book-to-film world, this is an an "applicable option payment" — same principle, wrapped in different kinds of bacon) I still encountered jargon and structure I didn't understand. Like:
What is a standard royalty payment on a stage play?
What conditions are an option exercised?
What are customary ancillary rights in the live theatre industry?
These aren't "difficult" questions. It's not Elon Musk, hyperloop-level of thought, but it required some work. Instead of doing that, though, I let myself off the hook by allowing myself to be distracted.
In Hollywood, an industry of primarily soft skills (e.g., networking, story analysis, "connecting-the-dots" (understanding and leveraging the relationships between various elements)) any deep thought is our opportunity to learn tangible skills, but only if we pause the minutiae long enough to realize it.
To do that:
We can pick an environment that's conducive for that level of work: no phones, no instant messenger, no bullshit distraction.

Since that place is all the way in Candyland, between 3rd and Nevergonnahappen, we have to create that environment the best we can. Turning off cell phones, signing out of our email, and picking the time of least calls to tackle this work.
We must have a strong enough sense of self to recognize when this is happening, so we can change our environment and/or habits, rather than beat our heads against the wall, wondering why we can't get anything done.
Photo Credit: debschi